About me.....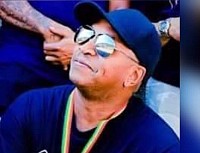 Starting out as a piano player studying classical music as a young child, after many years of playing on the live gigging circuit, I returned to writing and recording songs during the period of lockdown at the start of the 2020 COVID19 crisis.
Starting out performing as a teenager in the 80's, I steadily progressed from early classical piano training and diverse musical influences such as Bob Marley and The Wailers, Steel Pulse, Third World, James Brown, The Jacksons, Stevie Wonder, The Beatles, Paul McCartney and Wings and many others. I have always firmly believed that musical ability and creativity is built stronger by multi genre listening, appreciation, studying and playing.

During the mid 80's, I was invited to work with a band called Glasshouse, which I was introduced to by Roddy "Radiation" Byers, who lived locally and I met whilst performing with some friends in a street party close by. Glasshouse included musicians from 2-Tone Bands such as The Selecter and The Specials and other established local musicians such as, Roddy Radiation (The Specials), Ray King, Charley Anderson (The Selecter), Aurthur "Gaps" Hendrickson (The Selecter), Chris Christie (Hard Top 22), Charley "Aitch" Bembridge (The Selecter). Since then, I have gone on to perform in with, and become friends with a number of other bands/musicians of various genres such as, Neol Davies (The Selecter), Compton Amanor (The Selecter), Neville Staple (The Specials), Selwyn Brown (Steel Pulse), Steve "Grizzley" Nisbett (Steel Pulse), Basil Gabiddon (Steel Pulse) The Ministry Of Soul, The Reazons, The Marley Experience, UB42, Global Reggae Band, Riddimstone, The Reggulites, The Towers to list a few.

Over time, I have spent many years performing around the UK with various bands. As well as being an seasoned Keyboard Player, I also play Guitar, Bass Guitar (which can be heard on the singles "Counting Down The Days", "Salute", "Just Wanna Dance" and "Sweet Dreams" - all songs I play all guitars and bass guitar), I also plays drums along with being a Vocalist and Backing Vocalist. However, the songs "Counting Down The Days" and "Salute" feature my good friend and fellow music companion in various music projects (who also shares the same name)  - Dave Linton (aka Redman).

I am the Keyboard Player/Vocalist with Strictly UB40 (UB40 Tribute Band), XODUS (Bob Marley and The Wailers Tribute Band) and a recording/performing session musician when I am not working on my own song compositions.